The industry in the trafficking of Nepali girls is a very lucrative business.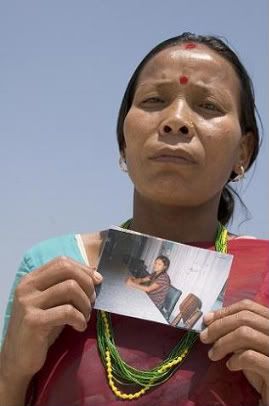 Besides this, Nepalese girls are cheaper to buy, much more cooperative and much easier to control and enslave. Girls from the rural regions are known to be much more obedient and considered more attractive for brothel owners who may want to resell them. Nepali girls coming from the rural farming areas, because of their naïveté, are much more easy to cheat and to force into debt bondage. This is because they have very little, if any, education and they usually do not speak any of the native languages of India.
"Annually, according to U.S. Government-sponsored research completed in 2006, approximately 800,000 people are trafficked across national borders, which does not include millions trafficked within their own countries. Approximately 80 percent of transnational victims are women and girls and up to 50 percent are minors," reports the US Department of State in a 2008 study.
The odds for a girl to escape her life in the brothels, once she is there, is very slim. Only a dismal percentage (6.9%) of brothel owners will voluntarily release one of their girls. 73.7% of all girls trapped inside the brothel system must be rescued if they are ever to reach the outside world again.
In an emmy award winning film, Executive Director of Apneaap Women Worldwide, Ruchira Gupta, goes inside the brothels of Mubai to show the degradation of girls who have been trafficked from Nepal to serve in India's sex-industy. This is a 8:57 min film excerpt.
Please join us at
Peace4 the Missing
Missing Persons Awareness and Support Network
http://peace4missing.ning.com