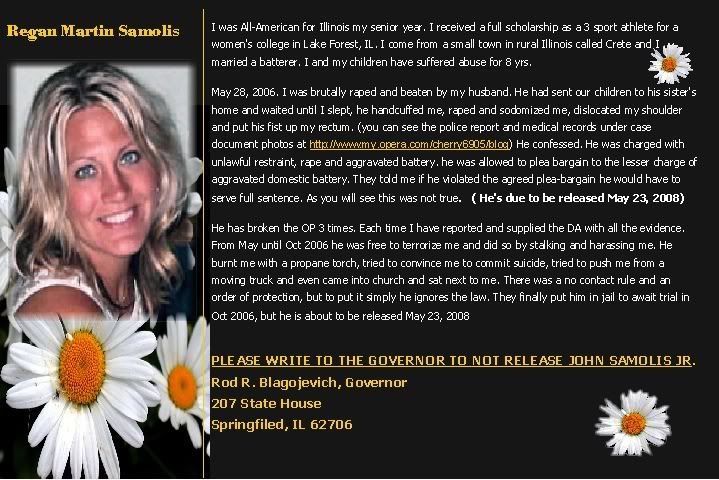 Tuesday November 11, 2008 8:00 PM PST/ 10:00PM CST/ 11:00PM EST
Listen live:
http://www.blogtalkradio.com/justiceinterrupted
Direct from Today's Chicago Tribune Headline,
Justice Interrupted
will be joined by the mother of domestic violence success survivor Regan Samolis.
http://www.chicagotribune.com/news/local/chi-regan_tuenov11,0,389866.story?page=5
Message below was posted on
http://peace4missing.ning.com/
by Cherry, the Mother of Regan Martin.
Today is my birthday. My greatest gift are my children and grandchildren. I can not look at their faces without also seeing one other face "Susan Murphy-Milano" she has tirelessly helped me and my daughter for almost a year. The Chicago Tribune, the video, are all here because of Susan. More than that, the whole 13 charges, the GPS monitor, the Harvard Law students now trying to help, these are all because of Susan. While I am thankful for the article I am upset they did not put Susan in the article.

Others need to know what to do and where to go for help. Please if you can comment on the article or even let the editor know of how Susan has helped so many. Do it! The whole reason Regan did the article was so God could bring good from this evil. Susan is an important part of God's miracle.
Please leave those comments here!
http://www.topix.net/forum/source/chicago-tribune/TUBO224D9CGTR43PH#lastPost
Susan Murphy Milano
http://www.movingoutmovingon.com/
Justice Interrupted
http://www.justiceinterrupted.blogspot.com/
Defending Our Lives: Protecting Yourself from Domestic Violence and Stalking
by Susan Murphy Milano
Moving Out, Moving on: When a Relationshop Goes Wrong Workbook
by Susan Murphy-Milano
Defending Our Lives: Getting Away from Domestic Violence and Staying Safe
by Susan Murphy-Milano
http://books.google.com/books?as_auth=Susan+Murphy+Milano&source=an&sa=X&oi=book_group&resnum=7&ct=title&cad=author-navigational

Amy Mullin's family members gasped in relief in a packed courtroom after the jury announced its guilty verdict on a single count of first-degree murder after a day of deliberation. Sentencing is scheduled for December 12th, 2008. Kailyce Mullins (Amy's Daughter) will be on the show.
This week on Justice Interrupted crime and the media. We will be joined by California Lt. Darrell Lowe.
Discussing the epidemic rate at which African American children are abducted, Gaetane Borders, head of
Peas in their Pods
and the fact that they simply do not receive adequate media coverage. Without this media attention the likelihood that these children will be found is slim to none.
And from the headlines, breaking news and case verdicts
Peace4
The Missing's Maggie's Rose will join the conversation.
Cloey and Owize1
http://www.jurorthirteen.com/
Please join us at Peace4 the Missing
Missing Persons Awareness and Support Network
http://peace4missing.ning.com